FS Mods from Armpit Studios
Critters 1.0.0.0
This mod simply adds some much needed atmosphere to any map, especially maps in the US Midwest. After enabling this mod, you'll hear many species of cicadas, red–wing blackbirds, mourning doves, owls, frogs & toads, and maybe even a hawk now and then. At night you'll see lightning bugs flying around. They're all dependent on the season and time of day, so don't expect to hear all of them all day and all night. That would just be weird.
After Critters runs for the first time, you'll find a file named critters.xml in your modSettings folder (~/Library/Application Support/FarmingSimulator2022/modSettings/critters.xml). You can edit that to change the frequency of sounds, and the maximum number of lightning bugs. Use 0 to turn off any of the categories. As with most things in FS, 1 = 100%, 0.5 = 50%, 2.01 = 201%, etc…
1.0.0.0 changes:
0.0.5 changes:
All sounds now follow Environment Volume setting.
Fixed lightning bug spawn height above terrain.
0.0.4 changes:
Cleaned up code. Reduced multiple functions for cicadas & birds to single generic functions.
Added owls, frogs, and a hawk.
0.0.3 changes:
Added lightning bug square wave pattern.
Doubled lightning bug spawn area.
Decreased amount of bird pitch randomization so it doesn't sound so goofy when you switch inside/outside while a sound is playing and the game chooses different random values for each.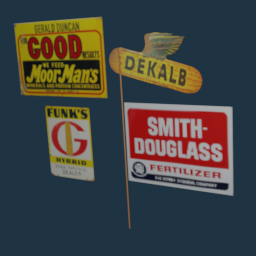 Vintage Farm Signs 1.0.0.0
This mod contains more than 2 dozen signs for various seed and feed brands that were once popular in the U.S., at least in the Midwest. They don't do anything like earn you money, but they sure make the landscape look better!
1.0.0.0 changes: